eBay spotted an opportunity to take a fashion retail concept with its signature value to market. The Luxury Fashion Outlet maximises changes in the sector, providing a platform for designer brands to sell past-season collections in a trusted environment, without detracting from their own channels.
Business consultancy
Product architecture
User experience & design
Share
The need to adapt
Luxury brands are increasingly struggling with selling off-season stock at discounted prices while retaining brand integrity and promoting full-price, on-season collections. eBay provides the perfect platform for this, but to do it credibly we needed to show it can create the right kind of shopping experience – to build trust alongside a raft of fake products on the platform.
eBay has over 100 million annual active fashion customers, buying 350 million fashion items per year, accounting for €9 billion of sales.
Building the proposition
The way people buy luxury fashion is changing, with sales moving to airport stores, out of town discount outlets and, most visibly, online and on mobile. We created the eBay Luxury Fashion Outlet concept to take advantage of these shifts, through a unique digital mall, focused only on luxury brands. Three pillars make this both feasible and desirable for the brands themselves.
Maximising the platform
Before starting any design work it was important to understand the technical and content limitations of the eBay platform. We established how to best use the different platforms and features, and defined how editorial could form part of the digital experience. From here we divided the store into four key sections: Designers, Products, Trending Now and Magazine.
Adapting the eBay brand
The new store needed to exist within eBay's visual brand ecosystem. With a deliberate nod to the conventions of luxury fashion, we gave the store its own identity, based on the masterbrand. Liberal use of gold, centred typographic labels, image frame detailing and careful image selection balance a unique, luxury aesthetic that remains true to eBay's look and feel.
The perfect product
The Product section uses various layout and feature modules to add variety and interaction to the site experience. Customers can find products through brand, size, style and colour, or search occasion sections.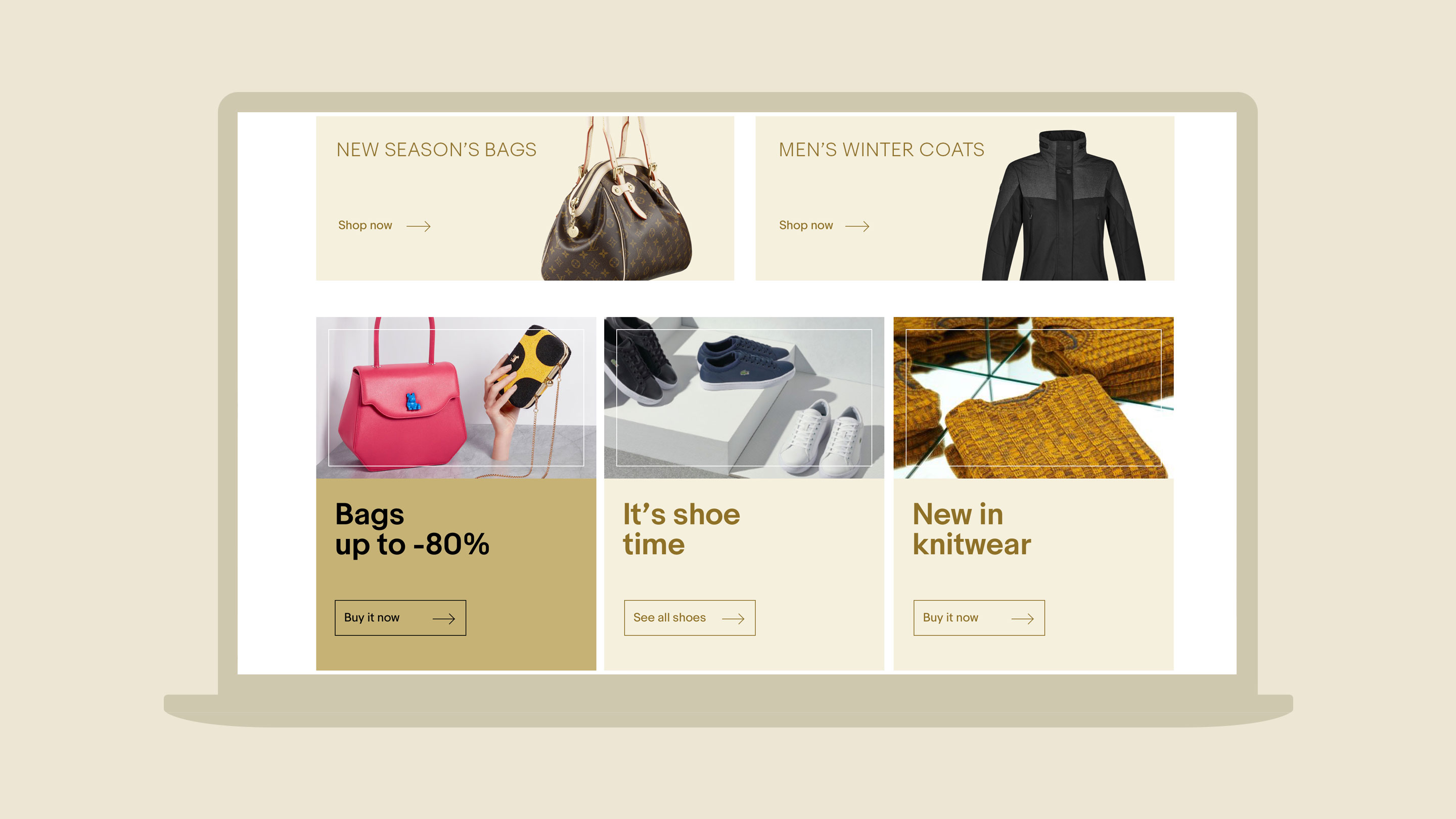 A stylish magazine
The Magazine section brings in partner editorial content supported with interactive features, like shoppable moodboards. The layout takes on a different look and feel to change pace and signpost a different shopping mode within the site.
Helping eBay thrive
We delivered a full business concept to eBay in just six weeks, from strategy and naming to user experience and visual design.
Like this? Try this…