We're an endlessly curious and creative group of designers, strategists and producers. To make sure it connects, our work is underpinned by five key principles.
1. Focus where it matters
In a connected world, your brand is whatever your audience is interacting with. Digital products provide untapped opportunities for organisations to express themselves. By weaving a brand's distinctiveness throughout, we ensure every experience is powerful, rewarding and memorable.
2. Think it through
To make every decision the right one, we maintain a strategic mindset throughout each project. Our four-stage process helps us discover the context, imagine the potential, create systems and deliver solutions. It means we're constantly pushing ourselves to test, learn and validate our thinking at every step.
3. Brand with character
While testing and optimisation are essential, they can easily strip distinction out of digital products. For brands to cut through, a focused core idea needs to be supported by a unique personality. We create design systems that bring a brand's character to life – inspiring their audiences and creating deeper connections.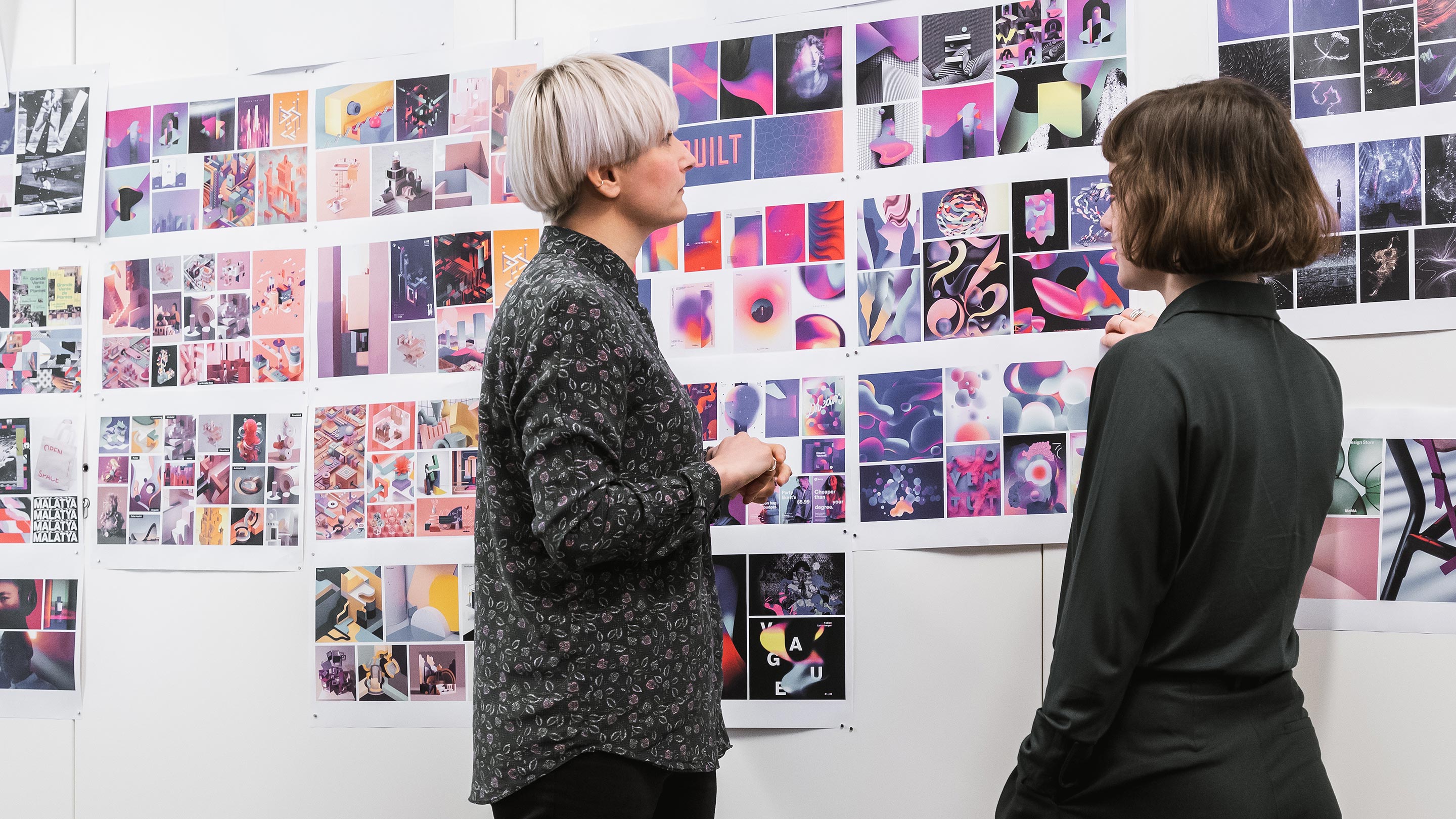 4. Bring creative energy
We help your teams solve problems and innovate. That means approaching things from different angles, using a combination of intelligence and intuition to uncover unexpected answers. Our creative energy constantly challenges internal teams to surprise themselves, which ultimately takes brands to the next level.
5. Get there together
Flexible and collaborative, we regularly work alongside our clients' internal design, product and UX teams. We're just as comfortable working with other agencies, bringing the expertise to adapt traditional brand design to the platforms and devices people use every day.
Meet the team
Gemma Ballinger
Managing Director / Partner
Gemma Ballinger
gemma@studio-output.com
Gemma is Managing Director and Partner at Output. Having experience throughout the business she now leads the team, building our strategy, new business and client relationships. Her goal is to make sure that working with Output is as rewarding as possible – helping our clients adapt and thrive for continued business success.
With years of experience across broadcast, entertainment and publishing, Gemma has delivered branding, design and build projects for some of our most exciting clients, including the BBC, Penguin, Pottermore, Vodafone Foundation, Merlin Entertainment, Science Museum and Warner Bros.
She is particularly focused on ensuring we've set a strong vision for the future, have an engaged and happy team and continue to build an agency people want to work with. Gemma also hosts regular insight events, both physically and virtually. These bring together thought leaders to share relevant knowledge with new and existing clients, so get in touch if you'd like to get involved.
Close
Johanna Drewe
Creative Director / Partner
Johanna Drewe
johanna@studio-output.com
Johanna is an inspirational leader and a thoughtful, inquisitive Creative Director.
Her knowledge of branding combines with an understanding of the digital landscape, to create unique and powerful brand experiences which reach deep into products.
She leads the creative team on a mission to push the boundaries of projects, ensuring brands are distinct and memorable across any platform or interaction. Recent highlights include rebranding Mixcloud, defining digital design languages for Auto Trader, Equals and Monzo Business, alongside unique digital experiences for The Mill and J.K. Rowling's Pottermore.
Johanna is a natural leader and mentor. She inspires her team to push their creative thinking, while balancing a considered and practical approach to client and audience needs. With 16 years in the industry, Johanna is keen to share her learnings, process and experiences. She's spoken at design events across the UK and is a guest lecturer at London Universities UCL and London Met.
Close
Rob Coke
Founding Partner
Rob Coke
rob@studio-output.com
Rob is Founding Partner at Output, with a deep understanding of brands built up over twenty years helping them grow. He set up the agency to 'make great work for interesting people', and established a team culture balancing challenge and support, to push that work from strength to strength.
As a key partner to our clients, Rob has led brand overhauls for the Government's Innovate UK and Sony PlayStation. He helped BBC Sport become a more coherent and relevant cross-platform brand, and recently oversaw a major rebrand for BBC Cymru Wales.
With a background spanning design, strategy and client relationships, Rob combines the problem-solving methodology of a designer with an empathic understanding of customer hopes and fears. He believes bold ideas can only thrive when clients embrace them, and devotes his time to helping them make the leap, through thought-provoking content and practical advice.
Rob writes about design and branding in the press, and has spoken at events as far afield as Dublin, New York and Beijing.
Close
Dan Fox
Head of Production
Dan Fox
dan.fox@studio-output.com
Dan is an integrated Head of Production, with a decade of experience working in brand and digital design agencies Dry and Bureau of Visual Affairs. He looks after the production department, mentoring and passing on his experience to the younger producers and generally keeping the studio running smoothly.
Dan has a great understanding of all areas of project management and is well suited to multifaceted deliverables. Current highlights include managing the FairFX and HeadStart accounts, and working across BBC Sport, BBC Scotland and BBC Three.
Having worked his way up the ladder, he isn't shy of getting his hands dirty and very much follows Anthony Burrill's philosophy, 'Work hard and be nice to people'.
Close
Bahar Shahidi
Senior Strategist
Bahar Shahidi
bahar.shahidi@studio-output.com
Bahar is a multi-skilled Strategist with five years' experience across brand, marketing and experience design.
Her background studying History and a Masters in Media & Communications provides a vital context for her work. She learns how a client's business works and creates experiences that meet its audience's needs.
Bahar enjoys a collaborative approach to strategy, working closely with designers to provide stimulating insight and direction that produces meaningful work. This results in practical frameworks that lead to thoughtful design, helping brands to imbue their distinctive proposition and character into everything they make and do.
At Output Bahar has defined proposition and character for clients like Auto Trader and Mixcloud, and remodelled the member experience for Slimming World. She's mastered the art of online workshops, user research and interviews, and loves building her knowledge at virtual talks and events.
Close
Sam Hodges
Senior Designer
Sam Hodges
sam.hodges@studio-output.com
After eight years in very different environments, Sam's expertise across both brand and digital gives him a unique perspective on design.
At Hugo & Marie, a creative studio in New York, he honed his 'traditional' skills by creating expressive visual content across video and print. Work & Co was a complete shift in process and mindset. As a digital product agency, design there was entirely led by optimisation, data and usability.
This combination of art & science made Sam wonder if there was a place that valued this diversity, and when he returned to the UK he found a natural home at Output. Here he uses both aspects of his skills to weave brand design through digital products for clients as diverse as fintech scale-up Equals, Auto Trader, Mixcloud and CGI powerhouse The Mill.
In doing so Sam combines broad, experimental and creative thinking with a deep understanding of product and usability.
Close
Charlotte Francis
Senior Designer
Charlotte Francis
charlotte.francis@studio-output.com
Charlotte has spent a decade building her skills as a designer through creating brand identities with energy and personality.
Since studying Graphic Design at Norwich University of the Arts, she's developed her craft at respected agencies Conran Design, pslondon and Philosophy. She's learned to make ideas-driven conceptual work that helps brands tell distinctive and meaningful stories.
A thoughtful and curious designer, Charlotte has delivered vibrant identities for Girl Effect, Wonder and Warner Brothers. Her career highlight so far is a major rebrand of BBC Cymru Wales, giving the organisation a modern and inspiring presence across broadcast, social and print.
She's inspired by the client challenges we tackle, the team around her and (now virtual) visits to exhibitions, talks and events.
Close
Tom Shotton
tom.shotton@studio-output.com
Tom is a rising star in the studio, with an inventive and playful approach to the role of typography and illustration within brand identity.
After studying Graphic and Communication Design at the University of Leeds, he broadened his horizons with internships at b2302 in Berlin and Studio Naam in Utrecht. This gave him strong foundations in brand and digital design which he's brought to Output.
Since starting with us he's brought his unique and optimistic process to bear for clients as varied as Wonder, Auto Trader, Monzo Business and our award-winning rebrand for streaming platform Mixcloud.
Not one to sit still, Tom is also a co-founder and regular contributor to Between Borders magazine.
Close
Gemma Ballinger
Managing Director / Partner
Johanna Drewe
Creative Director / Partner
Rob Coke
Founding Partner
Dan Fox
Head of Production
Bahar Shahidi
Senior Strategist
Sam Hodges
Senior Designer
Charlotte Francis
Senior Designer