In a world of constant change, most brand guardians are still working with guidelines that are unfit for purpose. It's time to keep your brand relevant, effective and up to date with an online brand hub.
If you're responsible for managing and maintaining a brand, you have it tough. Thanks to the exponential rise in platforms and formats, your job is more complex than ever. It can feel like you're swimming against a whirlpool of channels, tools and trends – all swirling at an unprecedented pace.
With a media environment that's forever in flux, brands are exposed to complex and dynamic forces. To stay relevant, brand guardianship requires energy and stamina as much as creativity and invention – and it all falls at the feet of brand directors and managers.
Factor in the number of people who need to be engaged and things can become even more chaotic. From internal marketing and product teams to external agency partners, everyone requires different levels of knowledge. It's a lot to absorb and stay on top of, without even considering how it all affects your brand itself.
So, in a constantly changing world – where brands need to adapt to keep up or stay ahead – it's surprising which tools most brand guardians are still expected to use. It's hard to break the habit of a working lifetime, but continually updating and reissuing brand guidelines is usually the way things are done.
Whether printed or PDF, static brand guidelines are no longer fit for purpose. They're a vacuum for resources, an inefficient use of time and often lead to more questions than answers when they're used. But what's the alternative?
It's time to use an online platform – in the form of a Brand Hub – to carry, communicate and share the latest thinking, principles and examples for your brand to follow.
In a constantly changing world – where brands need to adapt to keep up or stay ahead – it's surprising which tools most brand guardians are still expected to use."
From confusion to coherence
With more people involved in the management and maintenance of brands, as well as countless channels where they need to appear, confusion is difficult to avoid.
Coherence across platforms is vital for any brand to make an impact and thrive. Because our Brand Hubs are updated in real time, there are no legacy design principles or examples of how things were done five years ago floating around. Only the latest advice is accessible, and up-to-date assets are all downloadable. The result is a more coherent brand, across every channel, ensuring your brand stays relevant, current and effective.
In updating the BBC Sport brand, we overhauled legacy guidelines which ran to hundreds of pages but only covered broadcast and event outputs. With the new brand being implemented by BBC teams across UX & design, social, IPTV, marketing and events – as well as broadcast – we wanted to create a hub that facilitated rollout across all these channels. This introduced the core principles and proposition, before going into specific guidance on static, animated and interactive components. Supporting these with downloadable assets and templates enabled internal teams to roll out the brand coherently for the first time.
Access anything, anywhere
Brand Hubs give anyone working on your brand access to what they need, when they need it – streamlining projects between designers, marketers, product developers and external partners. There's no software to download, just a password-protected domain that can be accessed from any browser or device.
From interactive style guides demonstrating brands in action, to pattern and media libraries that hold all your assets in one central resource, our online Brand Hubs ensure everyone working with your brand is aligned as it evolves.
Our refresh of The Dungeons brand needed to be easy to execute by both the global brand team and the local markets. Replacing separate PDF guidelines for design execution and tone of voice, the brand hub we built contained clear sections offering guidance and downloadable templates, all introduced in an authentic Dungeons voice. This helps local teams to feel involved, buying into the idea of doing things right and keeping the brand on track across multiple locations.
Smart and intuitive
Every Brand Hub we create is built with users in mind. We use the same UX principles we apply to consumer projects, by understanding how people will use your Hub and what they need access to most often. Then we develop the most effective navigation structure around those journeys.
They're easy to maintain, update and host – either by us or your IT team – saving brand managers countless time and effort.
We devised a new brand design language for Auto Trader, working closely with their brand, marketing, UX & design teams. But the new assets and voice would be used by many more people across the business. A Brand Hub translated our work into clear guidelines, accompanied by packs of downloadable static and animated assets. And an editorial section introduced the new brand personality and voice, ensuring the various teams understood why the brand was evolving as well as how to implement it.
Don't get caught in the whirlpool and drown in guidelines. Swim with the digital current and develop a Brand Hub, to bring coherence to your brand and power to the people who work with it.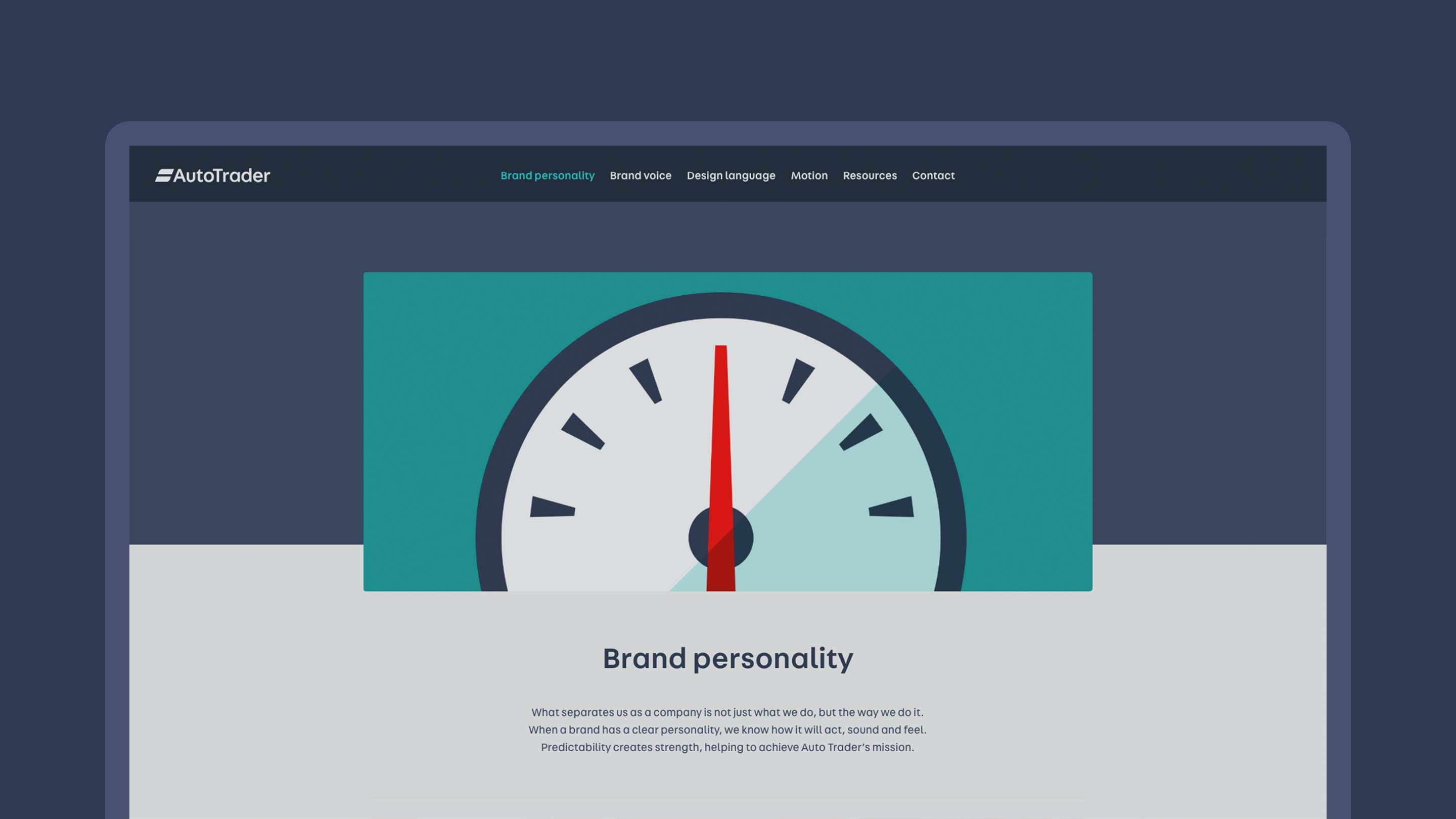 Like this? Try this…