In our latest R&D studio project, we take a deep dive into the disrupted automotive industry with our rapid discover/design process.
Away from the wheel
The car is going through its most significant evolutionary shift since the Ford Model T replaced the horse a century ago. Attitudes to ownership, sustainability, fuel, connectivity and automation are all converging to create a pivotal moment for the vehicle and its passengers.
This means the automotive industry faces a huge challenge to its current existence. But it also brings great opportunities, as free time while travelling increases and driving becomes a leisure pursuit in itself.
We ran a week-long studio project to explore the role of design in this shift, to put people at the heart of an automotive landscape fit for the future. What happens when we recognise everyone in the vehicle, and not 
just the driver?
Insights
Our research revealed insights around the trust and safety concerns people have about connected and autonomous vehicles. We also discovered opportunities to track health, wellbeing and behaviours within the car. It's clear that connectivity will have a huge effect on the automotive industry, and that a new passenger economy will grow around cars as places for leisure.
1.
Connectivity will have a more dramatic effect on cars than any other automotive technology in the last century.
2.
Most Americans think self-driving cars are inevitable but fewer than half would ride in one
3.
A new passenger economy could generate an extra $200 billion in revenue
4.
Ford Motor Company has previewed the idea of seatbelt or steering wheel sensors that track vital statistics
Design journey vision
We're using design thinking to explore the wider space around future mobility, not just the vehicle itself. We developed a number of starting concepts to explore.
1.
How design can humanise smart technologies, develop experiences and reach new customers
2.
What automotive innovation means for content brands, destinations and experiences
3.
How to make travelling more appealing to customers, by putting their needs first
4.
What this shift means for automotive brands themselves.
A new economy
In an emerging passenger economy could brands use the vehicle as a new channel?
Concept 1
Connected destinations
Connected cars provide opportunities for brands not usually associated with the automative sector to benefit from the passenger economy. The National Trust, for example, could create enhanced visitor experiences. From voice-based destination finders to enhanced content tailored to driving routes, the car becomes both a media surface and smart device.
Concept 2
The ultimate drive story
As driving tasks become increasingly automated, travelling by car will become a leisure activity in itself. Content and streaming services might take advantage of this to find and deliver the most celebrated drives on the planet. Could Netflix help people experience the roads in the movies through cinematic, geolocated content streamed directly to vehicles?
New models and new opportunities
Harnessing shifting attitudes, evolved products and disrupted industries
Concept 3
Brand experience services
Combining the connected car with new models of ownership creates huge opportunities for consumer-centric innovation. Brands will be able to join forces and develop tailored experiences for their customers. In this example we imagined a collaboration between Land Rover, Monocle and Mr & Mrs Smith – a bespoke travel experience complementing a luxury vehicle with bespoke content for iconic destinations. In a world where experience trumps ownership, what does a next-generation travel subscription look like?
Concept 4
Social tech packs
When the act of driving becomes purely an enthusiast's leisure pursuit, how might we share that passion with friends? We envisaged a Porsche 'social pack' that adds a drone to the optional extras. Fully integrated into a future Porsche 911e and the social channel of the moment, drivers share their most epic drives in the same way we currently capture helmet-cam or drone footage from adventure holidays.
Overcoming distrust of automation
Communicating the new and reaching new markets with challenging propositions
Concept 5
Reassuring safety concerns
With trust in autonomous vehicles a significant barrier to their uptake, how could manufacturers ease concerns? Airline passengers are reassured with a pre-flight explanation of the unseen from pilots and crew. An assistive automotive 'pilot' could instil similar confidence through a pre-journey narrative. If the vehicle highlighted likely route changes or safety manoeuvres based on intelligent route planning, would passengers feel more at ease?
Concept 6
Data security standards
Heightened concerns around privacy and data mean that customers will need reassurance before buying a connected car. Adding digital tests and assurances to the European New Car Assessment Programme (Euro NCAP) would help people make informed decisions on the connected vehicle they're considering.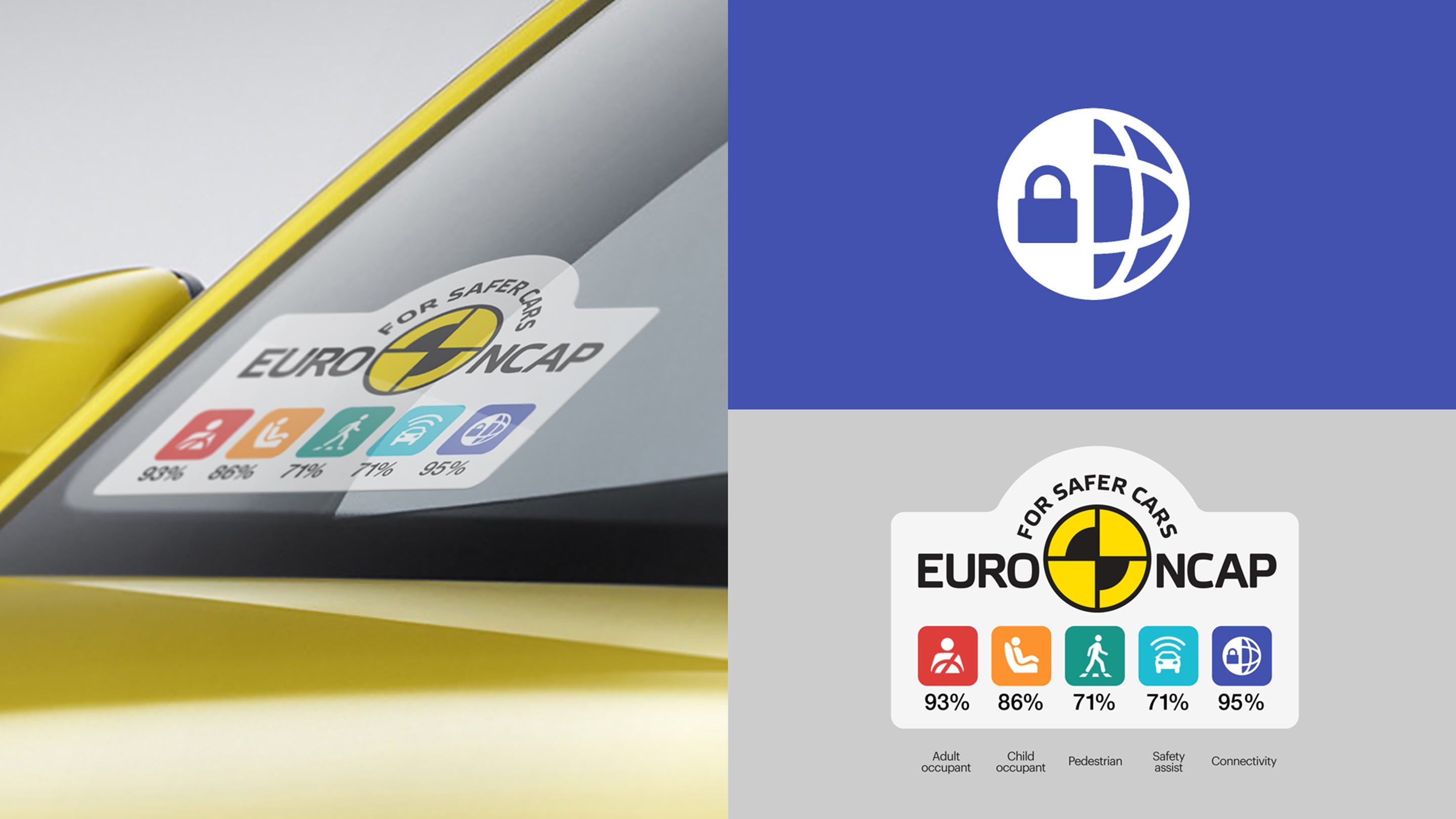 Concept 7
System protection
Virus and intruder detection could be reported to owners through their phone, giving constant peace of mind.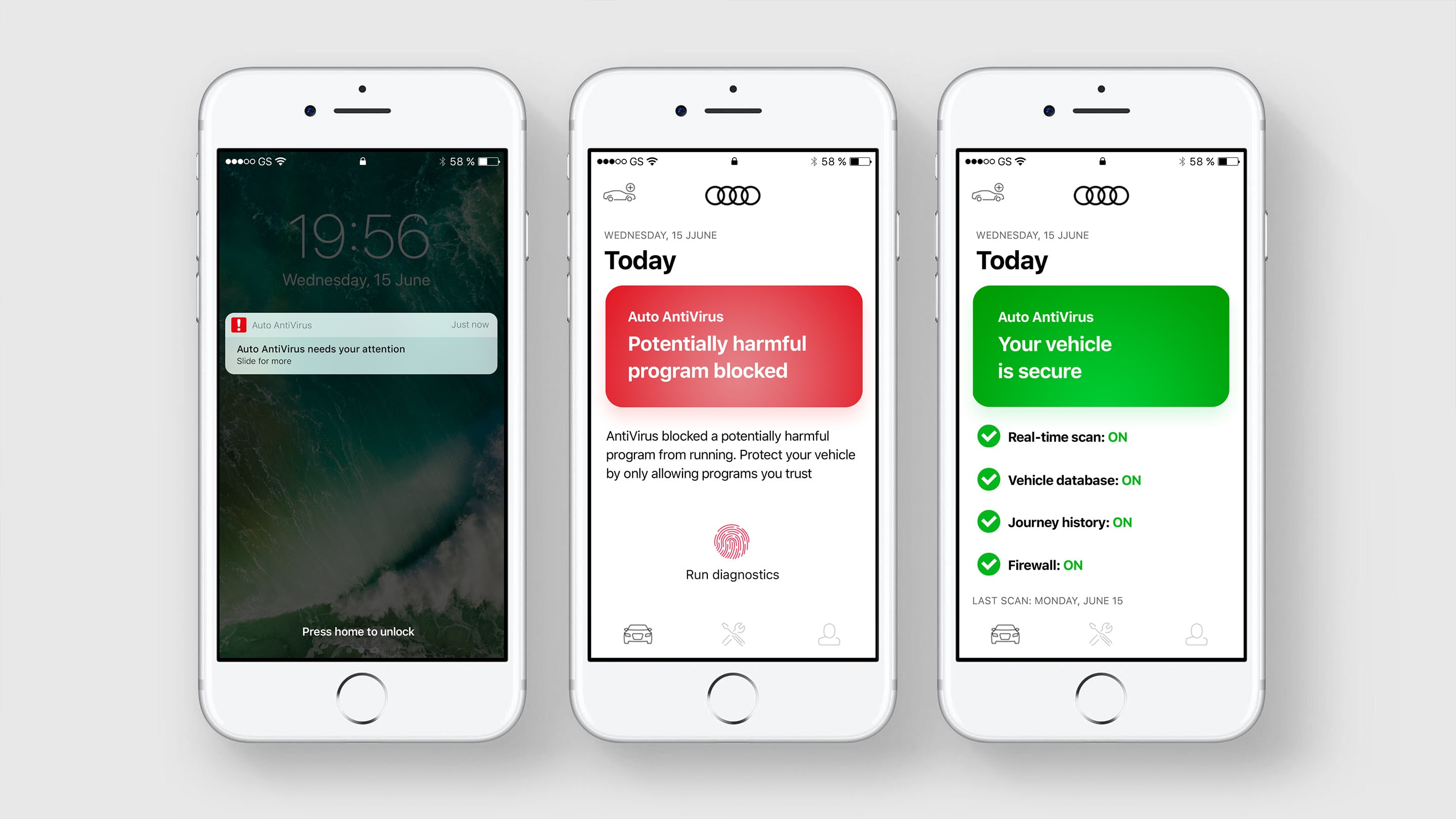 Better connected
Will a network of connected vehicles create a new ecosystem?
Concept 8
Intelligent route planning
By integrating with the built environment surrounding the vehicle, the connected car will assist intelligent and alternative journey planning. The car's route finder could guide us to the most enjoyable drives as well as the most efficient, combining crowdsourced data. Vehicles connected to each other can warn us about everything from upcoming pot-holes to regularly used school runs.
Concept 9
Nudging healthier driving
Biometric seating in connected vehicles could combine the public health agenda to create a driving aid for health and well-being. With an aim to reduce stress, avoid accident black spots and remedy fatigue, a connected health service app could provide nudges, creating a calmer and safer driving environment.
Concept 10
Gig-economy repair services
The connected car could benefit from the gig economy, through an army of individuals democratising vehicle maintenance and repairs. Owners and drivers could connect to remote mechanics and technicians to conduct repairs in the way we currently hail an Uber. In a further iteration, autonomous vehicles themselves could allow individuals to bid for self-diagnosed repair work and re-route to the remote technician.
Like this? Try this…