In the chaotic landscape of streaming, audiences face an increasingly fragmented and expensive future. While content is the main factor viewers consider, there's an overlooked opportunity to turn user experience into a differentiator.
As streaming platforms battle over content libraries and new business models, the user's primary touchpoint with streaming remains their screen.
While content is the main factor users consider when choosing a streaming service, it's table stakes – user experience matters too. Great content might reel consumers in, but compelling experiences keep them hooked.
Yet the experience of most streaming platforms leans heavily on legacy design patterns. It can feel impersonal and transactional, like a utility.
We think there's an opportunity to do more. To create something that pulls people deeper and closer. That supports escapism and enjoyment.
So we ran a week-long studio project to explore how we might create a more meaningful and satisfying discovery and watching experience. We spoke to people about their experiences with streaming and explored how we might solve their frustrations and problems through design.
Concept 1
Beyond the remote
Smart TVs remain the most popular way to consume video. In response to the limited functionality of the remote, we looked at other ways to control the experience. Voice felt like a no brainer, using easy, conversational language. As did smartphones, using the second screen as a remote. Greater control, more efficiency, and with the potential to create a richer experience beyond navigation.
Concept 2
Welcome lobby
This is the welcome lobby – choose what you want to do, take a lift to the right floor, distraction-free, remaining focused on the task at hand.
Instead of presenting tiles and rows of competing shows and bombarding users with overwhelming choice straightaway, we ask them to make a simpler decision. Four options only, based on what they want to do.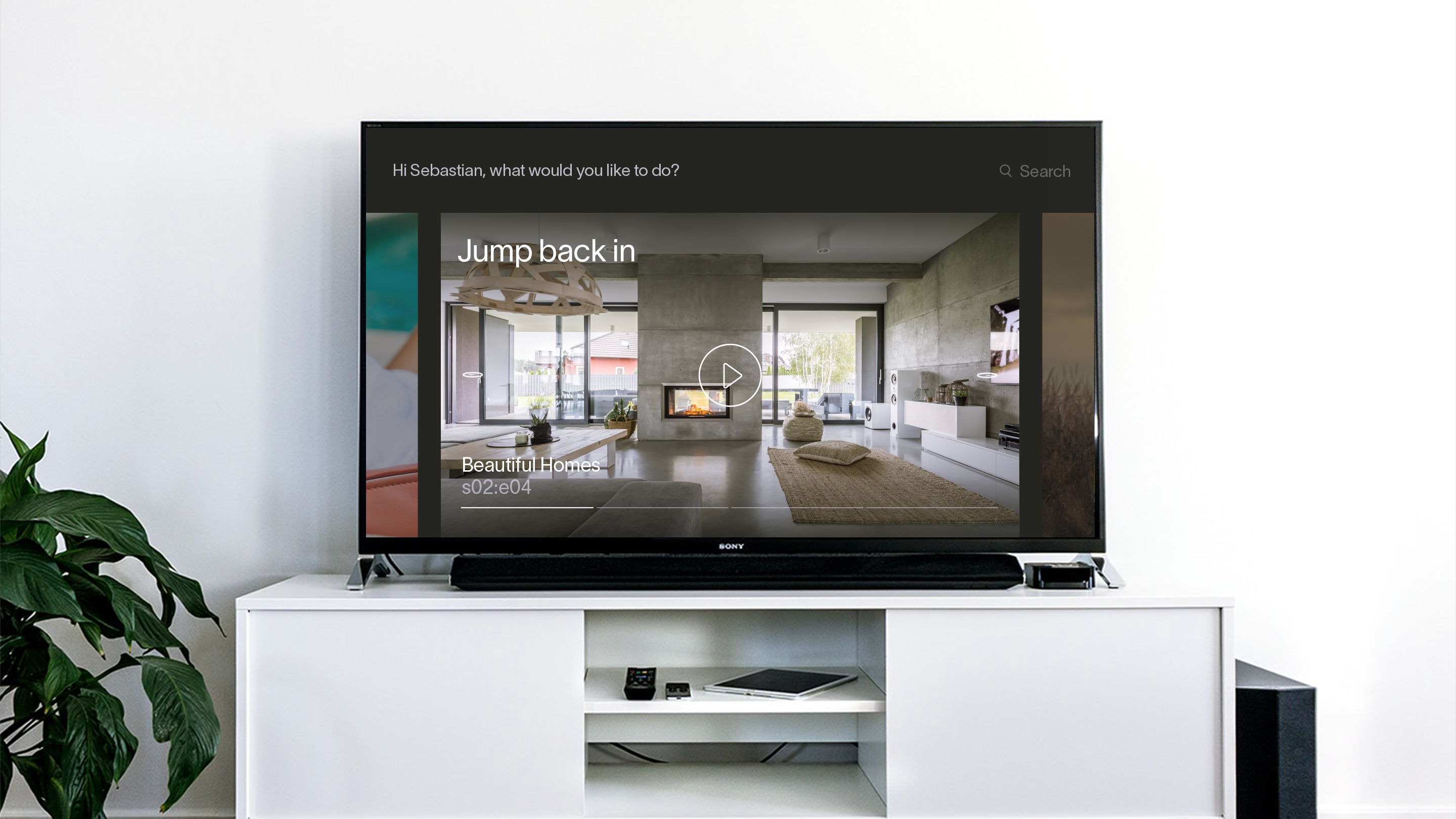 Concept 3
Trailers for you
A new approach to trailers and previews — personal, curated, contextual, and interactive. We give people a chance to get a feel for new shows, without making a commitment. The trailer categories may be based around mood, context, as well as the person's watching habits.
We'll help people discover shows that might otherwise go under the radar, while making intuitive assumptions that refine choice (and still feel relevant).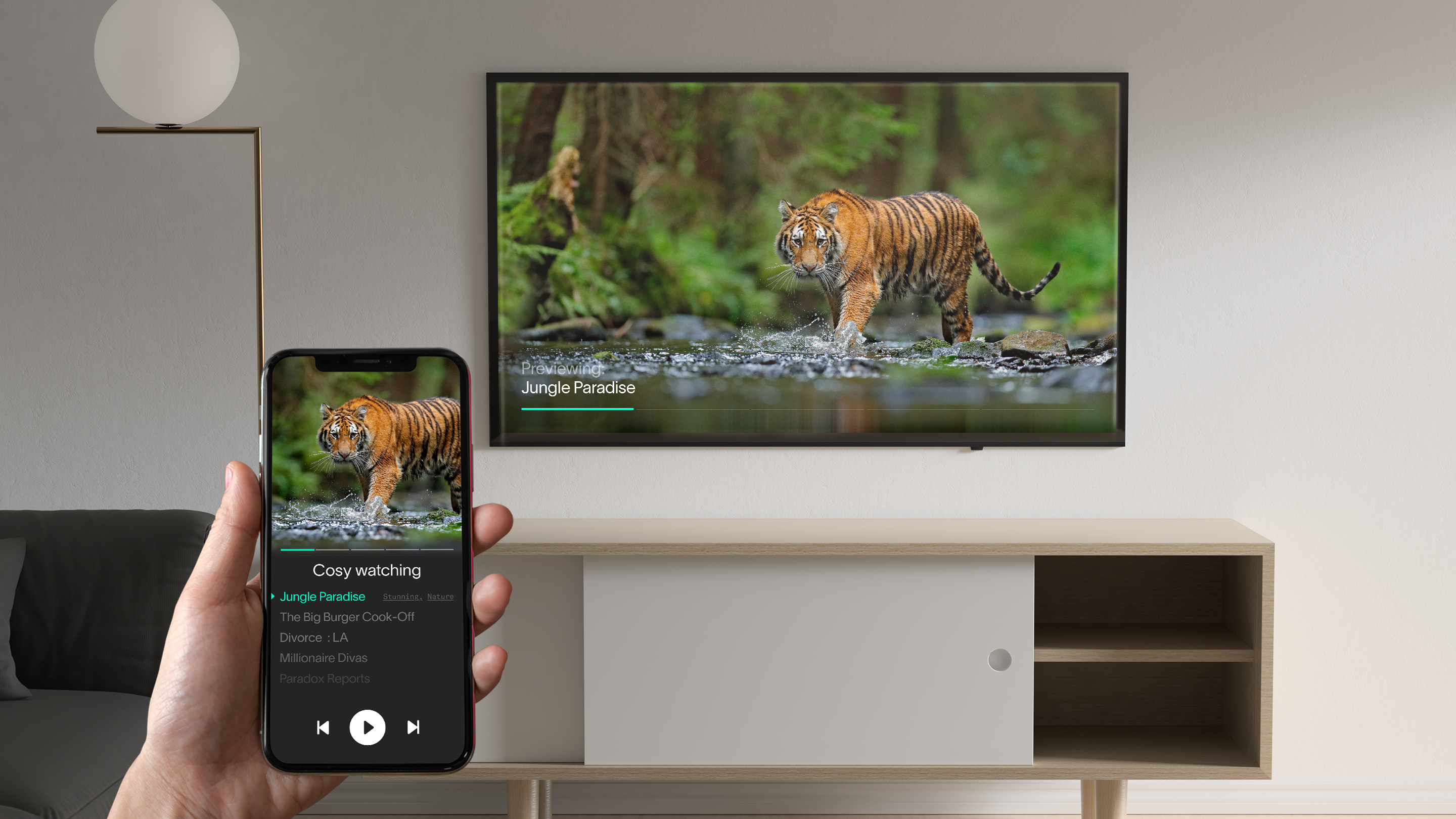 Concept 4
Filtered discovery
Filters give the user the ability to reduce their choices and ease the decision-making process. Layering multiple filters makes it easy to find something that's right for their mood and context. Instead of relying on genres only, filter options can be based around mood or length of time.
Rather than relying on navigation through rows and carousels of content, it provides an alternative access point into content.
Concept 5
Viewing party
Watch together, wherever you might be. Watchers can schedule a viewing party and invite friends to join them, injecting back the excitement of live TV and a fun, social element that does not rely on being in the same room.
Watchers can chat simultaneously on their mobile device, share an experience with friends, or request a break – we think of it is an intimate space to escape.
Concept 6
Dynamic recap
We've all been there – started something, forgot about it, and now it seems like too much effort to restart. This feature offers different lengths and type of recaps, dynamically made. User can choose whether they want to recap the last 4 episodes or the last 4 seasons, as well as how long they want the recap to be.
Concept 7
Get deeper
We wanted to make streaming less linear, instead offering a more 360 experience. We can use the mobile device to give real-time, relevant information throughout a show. Once the show ends, users are able to read, watch, or listen to more. And because it happens on their mobile device, we can link them to a podcast on iTunes, a playlist on Spotify or an article on Medium.
Concept 8
How did you feel?
Streaming platforms gather user data based on inferred data, limiting any true dialogue between the watcher and the platform.
So what if we asked users for feedback? Rather than a rating scale, we suggest adjectives that might describe the show. This data still feeds into an algorithm. But it's one that incorporates users' subjectivity and thoughts too. Combined with viewing numbers and completion rates, there's a whole new range of insights that we can uncover.
Recommendations for the future
Watching content is entertainment. It's a moment for enjoyment, relaxation, and escapism. The current landscape of 'streaming wars' and focus on content libraries risks undermining that.
We think user experience could be the antidote and an opportunity for distinction.
It's possible to create a more meaningful and satisfying experience – from start to finish, and beyond.
Like this? Try this…